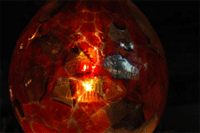 Please Note!
There is no pricing anywhere on this site or on any of our manufacturer's sites. Pricing can be obtained by calling us at (815) 455-7070 during our hours of operation.
About Us
Crystal Lake Lighting and Design, Inc. is a three generation family business located in northwestern Illinois. Incorporated in 1986, we have expanded to our current size over twenty years of operation.
We are unique as a showroom, in that we do not sell electrical supplies, only fixtures. This allows us to concentrate our attention on lighting design and layout for our customers and enables us to provide more complete and professional lighting advice.
Our commitment to our customers is to offer a high level of service with quality and unique lighting products. We offer upscale fixture lines as well as better value products to provide lighting for a wide range of homeowners.
Most of our vendors do not sell to the "Depot" or "Expo" stores, and for those that do, we offer the same merchandise at a lower cost to the customer! Call our customer service department at (815) 455-7070 today for a quote or advice on your lighting.
Officers
President - Jessica Trinkus
Chief Financial Officer - Virginia Beringer