Manufacturer Rating





This rating is based on the quality of products produced by this company. Our quality begins where lighting sold by depot stores ends.
Our rating system is as follows.












Worksheet
To help you keep track of the manufacturers and the lights that you like, you can use our lighting worksheet
(pdf viewer required)

worksheet.pdf(69k)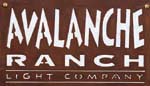 Avalanche Ranch Light Company was created in response to our customers' desire to incorporate the great outdoors into their casual living environment. Whether inspired by the high mountian style of a National Park Lodge, the rustic simplicity of a northwoods cabin or the natural art of an Adirondack great camp, our lights adorn homes, lodges and restaurants all across the United States.

Our designs include sconces, bathroom lights, chandeliers, foyer, semi-flush, pendants and outdoor lights. Hand crafted of metal by our skilled artisians, these rustic lights will be sure to complete the look of your decorating scheme.
How it works...
By clicking this link, you are leaving this site, and going to the manufacturers website. You can view this manufacturers products online. If you find items you like, contact us, and we can give you pricing. There is no pricing anywhere on this site, or on our manufacturers sites.
www.avalight.com (opens in new window)