Manufacturer Rating





This rating is based on the quality of products produced by this company. Our quality begins where lighting sold by depot stores ends.
Our rating system is as follows.












Worksheet
To help you keep track of the manufacturers and the lights that you like, you can use our lighting worksheet
(pdf viewer required)

worksheet.pdf(69k)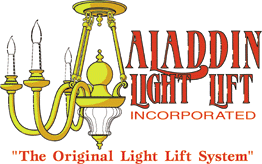 Aladdin Light Lift was founded in 1990 to manufacture a patented motorized chandelier lift system to raise and lower chandeliers for cleaning and bulb changing. This innovative product was the original light lift system, and the first reasonably priced motorized system to be produced in the United States. The Aladdin system was rigorously tested by Underwriters Laboratories and is designed for years of trouble free operation. Currently, the Aladdin systems are marketed through prominent lighting showrooms throughout the United States and Canada. If you have high ceilings and want to maintain the luster of your chandelier, and avoid dangerously tall ladders or costly cleaning services, then Aladdin Light Lift has the answer for you. It is the safe and convenient companion for your chandelier
How it works...
By clicking this link, you are leaving this site, and going to the manufacturers website. You can view this manufacturers products online. If you find items you like, contact us, and we can give you pricing. There is no pricing anywhere on this site, or on our manufacturers sites.
www.aladdinlightlift.com (opens in new window)